Getting Ready
To Record Your
Voice At Home?
Working as a professional voice talent
is a great career that can make
an impressive living.
Session work at a recording studio is exciting, fun, and you get to meet all kinds of great people.
The best part is when you step into that recording booth and hear how good you sound,
you think to yourself,
"Hmmm, I really am a professional".
As a voice talent, you also understand the importance of being able to record from home.
---
So you set out to put together your home studio.
You get a good, large diaphragm microphone and a preamplifier for your mic. 
Heck, maybe you even skip the preamp and go right for a USB microphone.
The fewer steps involved the better, right?
You've got a good computer, it should be able to record plenty of takes. You are all set to go. 
But, something doesn't sound right. 
It just does not sound the same as when you went into those professional studios.
Where is the richness?

Where is the presence?

Where is that upfront sound that engineers are able to get out of your voice?

---
When you sound great, delivering the goods seems easy.
But now you're getting
frustrated.
What's worse, your performance is starting to suffer.
It's very hard to concentrate.
You just can't deliver a good performance when all these problems are tormenting you in your headphones.
Or maybe you don't even hear any of these problems that are causing your auditions to get no response.

---
Here's Where

I Can Help You
I am Jim Sherry.
I have been a professional recording engineer for the past 20 years in the spoken word industry.
I have recorded thousands of voice talent for tens of thousands of spoken word productions.
I know what a good recording sounds like, and I know when a recording can be better than it is.
I know what the problems you are encountering sound like and I can guide you in the right direction to improve your voice over recordings.
What would it be worth to you to get advice,

from a seasoned pro in the recording industry,

that could get you working from your next audition?
You can quickly learn what to do in order to increase the quality of your recordings,
and get more clients while keeping the ones you may already have.
---
---
Just $19
Here's What

  Y

ou Do:
Email me at jim@voiceathome.com with the following:
A

 sample of your recording in mp3 format. It could be a recent audition that got no response. 

It could be a short segment of an audiobook that you are working on.

Or even just a fresh read of an old script for the purpose of this evaluation.
A picture of your setup, preferably with you at the mic in a real world recording situation, not posing for the picture. (Ask a friend to help you so you are not trying to take the picture yourself.)

(This step is completely optional but does give me a bigger picture, so to speak)
In your email to me, include a breakdown of your equipment – microphone, preamp if you are using one, and recording software so that I may better understand your setup.
---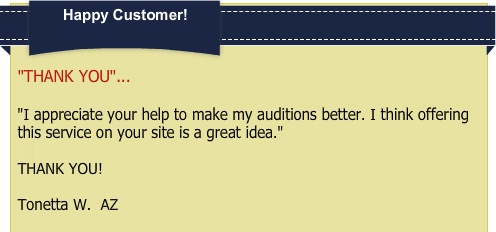 ---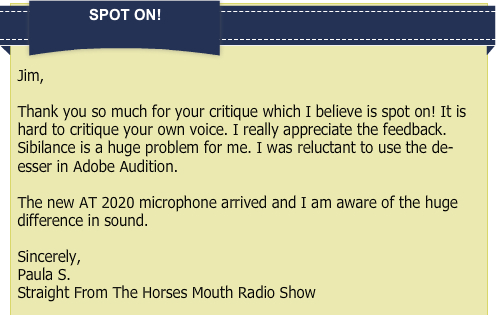 ---
Just $19
Here's What You Get:
A PDF document with my analysis of your audio recordings based on my 20 years experience.
This document will include:
Technical aspects of your recording that could be holding you back.
How your room is responding to your voice and what you can do to "tighten" things up.
If your specific equipment is being fully utilized or is it part of the problem.
The one thing you can start doing right now to drastically improve any audition.
The biggest mistake most talent make when sending an audition to the agency that could be hurting their chances. Are you doing it?
I will even send your file back to you with any changes that would make you stand out amongst the crowd. (Where applicable)
If necessary, an evaluation of your performance and delivery that could make
the difference between only getting calls FOR auditions
and getting calls FROM auditions.
Why struggle with getting work from and for your home studio?
Make a change today!
Click The Orange Button and Start Now! Just $19